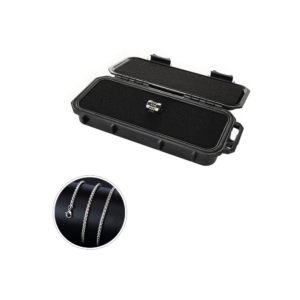 Back to products
RovyVon Ti Firefly EDC Titanium Bead GITD Red Yellow Green
119.00 zł Gross, ( 96.75 zł Net )
The Ti Firefly bead could decorate your gear like knives, bags, keys and etc, it weighs only 10,5 grams.
It can glow in the dark (GITD) after charged by external lights such as sunshine, UV light, and other flashlights.
Specifications:
Caps: TC4 titanium
Window: PC
Paracord: ATWOOD (Diameter: 4 mm)
GITD: Fluorescence
Keyring: TC4 titanium (wire diameter 1 mm)
Weight: 10.5g
Height: 19,8mm
Overall length: 110 mm (include paracord)
Diameter: 14,3 mm
Paracord hole diameter: 5,3mm
Keyring diameter: 12 mm
Add
50.00

zł
to your cart and get free shipping*! (*applies to delivery in Poland)
Out of stock
Notify about availability
We will inform you when the product is in stock. Please leave your valid e-mail address below.
8
People watching this product now!
The lowest price (

2023-09-21

): 119.00

zł
SKU:
RVTFR
Category:
Discontinued
Description
MATERIAL: Titanium, GITD tiles, polycarbonate
ASSEMBLING: Paracord + titanium key ring
Specifications
SPECIFICATIONS:

NAME: Ti Firefly Bead
BRAND: RovyVon®
COLOUR: Tytan
MATERIAL: Titanium TC4, GITD tiles (red, yellow, green), polycarbonate
FINISH: Polished
DIMENSIONS AND WEIGHT:

OVERALL LENGTH: 110 mm / 4.33″ (including paracord)
BEAD HEIGHT: 19,8 mm / 0.78″
BEAD DIAMETER: 14,3 mm / 0.56″
PARACORD HOLE DIAMETER: 5,3 mm / 0.21″
KEYRING DIAMETER: 12 mm / 0.47″ (grubość drutu 1 mm / 0.04″)
WEIGHT: 10,5 g / 0.37oz

PRODUCER DATA:

PRODUCT CODE: Ti Firefly
PRODUCER: RovyVon®, China
Contents
Ti Firefly Bead with paracord and titanium keyring
Certificate of authenticity
Plastic bag
Paper box
Only logged in customers who have purchased this product may leave a review.