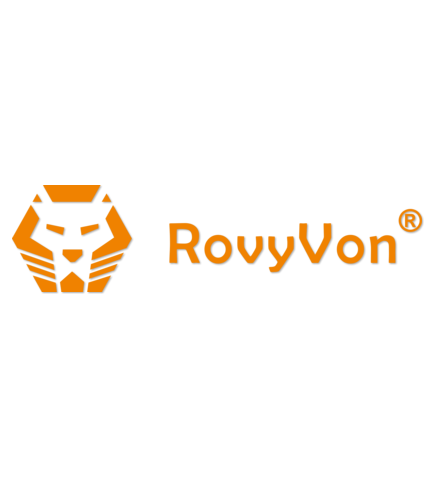 RovyVon® is a manufacturer of several lines of interesting flashlights and small accessories for everyday use.
RovyVon® was not created by accident. The brand has gathered people who have been passionate about everyday EDC equipment and outdoor for years.
The ideas, designs and realizations came from the desire to create interesting, convenient and at the same time durable accessories that the creators themselves will first test and approve. The passions were combined with the design experience gained during many years of work of individual team members in consumer companies of a global standard, producing, in particular laptops (Lenovo), headphones (Puma), outdoor equipment, flashlights, etc. The result of this combination are very interesting, high-quality products that are now available for everyone.
Both the basic RovyVon® assortment (LED flashlights), or the additional inventory in the form of small everyday accessories – we can definitely describe as: innovation and originality without compromise.
RovyVon® are handy LED flashlights for every application. They are flashlights with basic lighting functions, but also specialist ones (flashlights with UV lighting function and with light functions in different colors). These are flashlights with larger dimensions, the weight, strength and power of which we can "feel" in our hands, but also small, discreet gadgets that are always ready to be used (flashlights – key rings distributing full-size light). Finally, it is a choice: colors, material, size and additional functions that will give you the opportunity to fit your personalized needs.
RovyVon® are also useful and ingenious EDC gadgets, helping you to better organize your daily activities. We are convinced that organizers for small accessories (RX10 organizers), mini knives attached to keys, titanium carabiners, etc. will complete the everyday equipment of many of you at home, at work and on the road.
Latarka LED RovyVon Angel Eyes E200r Czarna Aluminium Sygnalizacyjna Frontowe Światło Czerwone i Niebieskie Światło Boczne Białe
Angel Eyes
E200
to linia latarek
RovyVon®
swoim pomysłem odchodząca od klasycznych projektów cylindrycznych. W zamyśle twórców design ma wnieść nutę świeżości do świata latarek zdominowanego przez owalne kształty. Odejście od cylindrycznej obudowy, oprócz ciekawego wyglądu, pozwoliło na umieszczenie w niej baterii o większej pojemności, co w połączeniu z wydajnymi diodami przełożyło się na bardzo dobre efekty użytkowe w postaci m.in. długiego czasu działania.
Angel Eyes E200
to latarka wielozadaniowa, do uniwersalnego zastosowania przydatna w domu, w pracy i na wyjeździe. Z jednej strony jest na tyle duża, że dobrze leży w dłoni i pomieści pojemną baterię z silnymi diodami, a z drugiej na tyle mała, że z łatwością zmieścimy ją w kieszeni, saszetce, organizerze itd., aby była dostępna pod ręką w trakcie codziennego funkcjonowania (jako latarka codzienna EDC - Every Day Carry).
Prezentowany model latarki RovyVon Angel Eyes E200r
wykonany
z wytrzymałego aluminium
 posiada
wydajne oświetlenie główne i boczne
na bazie diod
CREE. Sygnalizacyjne diody frontowe dają czerwony lub niebieskie strumień świetlny, oświetlenie boczne daje maksymalnie 1000 lumenów mocy świetlnej.
 Ładowany za pomocą złącza
USB-C 
akumulator, zapewnia czas pracy o długości
1440 mAh (maksymalnie 140 godzin świecenia)
. Do dyspozycji użytkownik ma 8 różnych trybów pracy, które posłużą jako wsparcie podczas wykonywania różnorodnych zadań.