 MK Knives & Tools
The initials MK and the logo consisting of these two letters are the elements that are the main characteristics of the projects and work of a Polish knife maker, Marcin Kampka. Marcin is a representative of the young generation of knife makers, distinguished by extraordinary designs, ingenuity of solutions, perfection and meticulousness of workmanship. 
Marcin does not accept compromises. For the production of its knives, he uses the highest quality materials such as Elmax steel, Vanadis 4 Extra, Vanadis 23, Sleipner. For the cladding of the handle, titanium, G10 composite, micarta etc. are used. Each of his designs is distinguished by individuality. Each design element must fit the concept of the whole and fit with one other. Each knife with a fixed blade, especially each blade, cut, shape of the blade, must match the design of the handle, the design of which matches the color of the holster and the patterns on it. It is similar with folding knives – individual elements are hand-made by Marcin, each screw, clip, etc. takes on individual features after passing through his hands.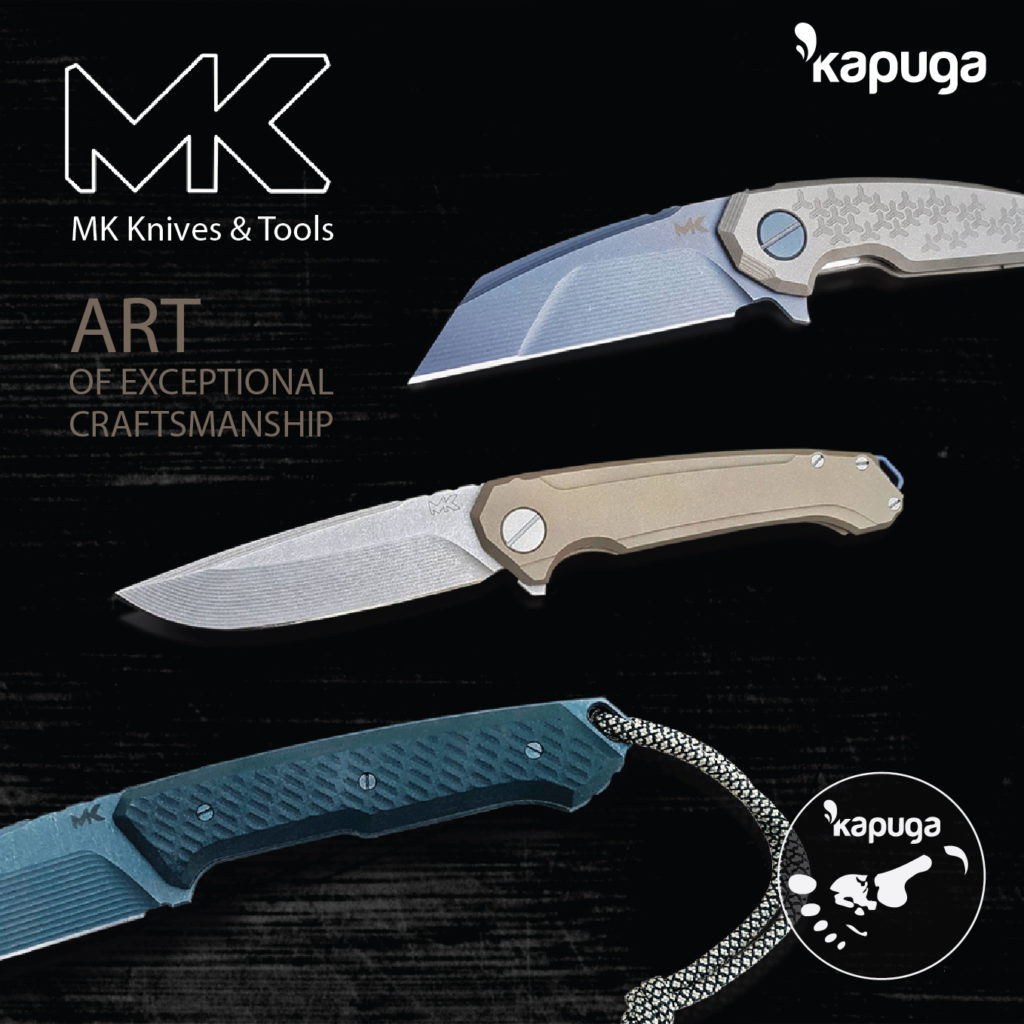 Kapuga.pl offers unique editions of MK Knives & Tools flagship knives prepared especially for our store. Sometimes you will also be able to meet Marcin's typical custom projects. Whichever choice you make – it will always be the right choice! In each of the MK Knives & Tools knives you will find inspiration (an emanation of his inspiration and inspiration for yourself!), Incredible passionate commitment and an expression of diligent modesty, the result of which is the final product full of expression and uniqueness!
We invite you to an amazing adventure with MK Knives & Tools!
MK Knives & Tools MK-04 Sentinel Custom "Black & Green" Knife
is a project of Marcin Kampka, created for the needs of users interested in survival and appreciating tactical equipment. The size (total length 272 mm), construction and materials make it an extremely durable tool dedicated to users who like to be sure that in extreme situations the equipment will not let them down. After all, a Sentinel is a guardian" or protector that is supposed to provide reliable support to the person who operates it.
Nóż MK Knives & Tools MK-04 Sentinel Custom "Black & Green"
wykonany w pojedynczym egzemplarzu posiada unikalną konstrukcję. Ostrze z wytrzymałej
stali Vandis 23
o świetnej twardości (aż 64 HRC), powleczone zostało czarną, znacznie grubszą niż w innych modelach MK Knives & Tools (możesz je znaleźć
TUTAJ
)
powłoką PVD
, z której wyłaniają się zielonkawe pobłyski. Innowacyjna budowa rękojeści łączy w sobie
zalety konstrukcji full tang oraz hidden tang
. Szeroki trzpień noża biegnie przez całą długość rękojeści (tak jak w full tang), ale obudowany został całkowicie skręconymi na nim
okładkami z kompozytu G10
(podobnie jak w hidden tang). Taka konstrukcja daje nam równie dużą wytrzymałość jak w klasycznym full tang, jednakże jest przyjemniejsza dla dłoni pracującej na mrozie bez rękawiczki, jak w przypadku noży hidden tang. Prezentowany nóż, to również pierwsze wykonanie tego modelu z uchwytem na paracord (linkę itd.) zaprojektowanym na zakończeniu rękojeści.
MK Knives & Tools MK-04 Sentinel Custom "Black & Green" knife
made in a single piece has a unique design. The blade made of
durable Vandis 23 steel
with excellent hardness (up to 64 HRC), has been coated with a black, much thicker than in other
MK Knives & Tools
models (you can find them
HERE
),
PVD coating
, from which greenish flashes emerge. The innovative construction of the handle combines the advantages of full tang and hidden tang construction. The wide shank of the knife runs along the entire length of the handle (as in the full tang), but it has been enclosed with
G10 composite covers
screwed on it (as in the hidden tang). This construction gives us the same durability as in the classic full tang, but it is more pleasant for a hand working in the cold without a glove, as in the case of hidden tang knives. The presented knife is also the first version of this model with hole for paracord (rope etc.) designed at the end of the handle.