 MK Knives & Tools

The initials MK and the logo consisting of these two letters are the elements that are the main characteristics of the projects and work of a Polish knifemaker, Marcin Kampka (MK Knives & Tools). Marcin is a representative of the young generation of knife makers, distinguished by extraordinary designs, ingenuity of solutions, perfection and meticulousness of workmanship. 
Marcin Kampka does not accept compromises. For the production of its knives, he uses the highest quality materials such as Elmax steel, Vanadis 4 Extra, Vanadis 23, Sleipner. For the cladding of the handle, titanium, G10 composite, micarta etc. are used. Each of his designs is distinguished by individuality. Each design element must fit the concept of the whole and fit with one other. Each knife with a fixed blade, especially each blade, cut, shape of the blade, must match the design of the handle, the design of which matches the color of the holster and the patterns on it. It is similar with folding knives – individual elements are hand-made by Marcin Kampka, each screw, clip, etc. takes on individual features after passing through his hands.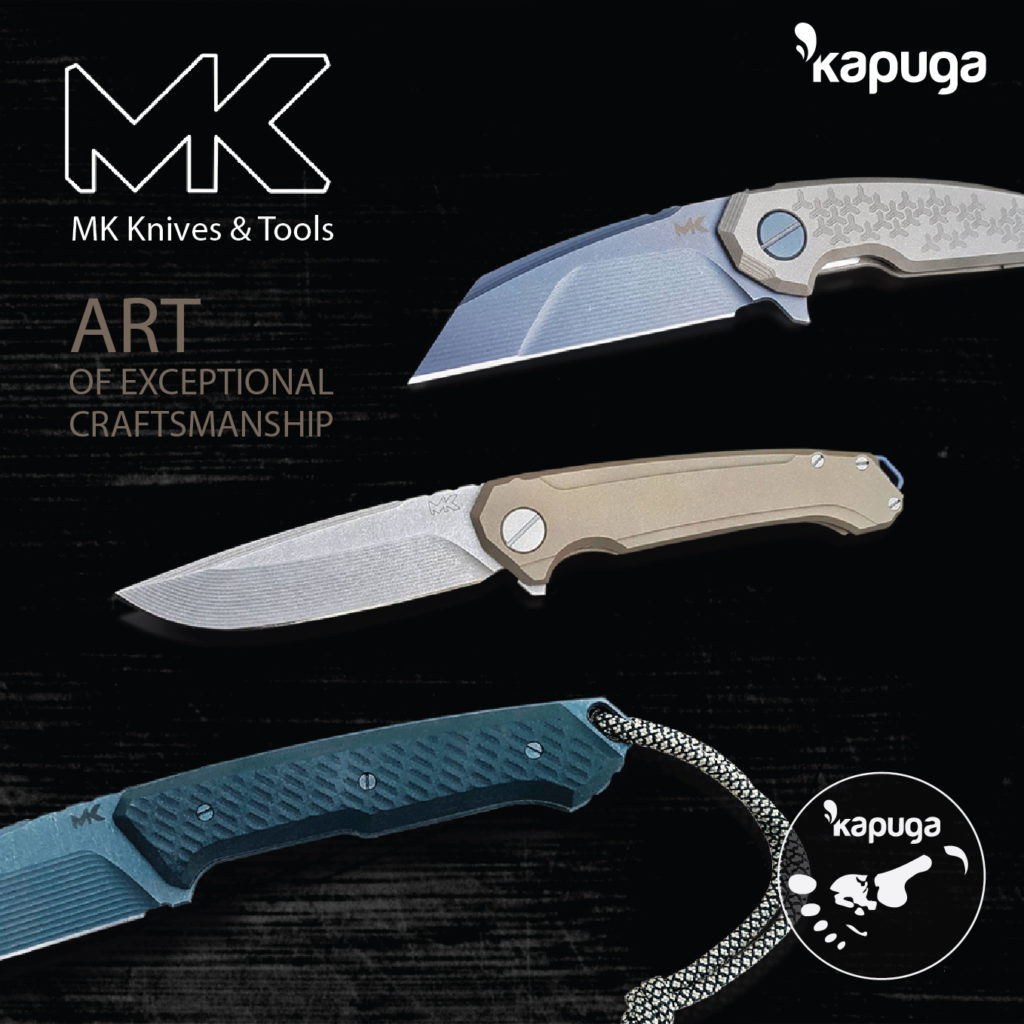 Kapuga.pl offers unique editions of MK Knives & Tools flagship knives prepared especially for our store. You will also be able to meet Marcin Kampka's typical custom projects. Whichever choice you make – it will always be the right choice! In each of the MK Knives & Tools knives you will find inspiration (an emanation of his inspiration and inspiration for yourself!), Incredible passionate commitment and an expression of diligent modesty, the result of which is the final product full of expression and uniqueness!
We invite you to an amazing adventure with MK Knives & Tools!
MK Knives & Tools products you can find HERE.
MK Knives & Tools Claw "Integrated Circuit" Karambit Knife | Vanadis 4 Extra | PVD
. Originally, karambit was created in distant times in Malaysia and the Philippines, and its shape was inspired by the claws of large predatory cats. Characteristic for its construction were a curved blade and an inverted handle with a finger hole. The
Claw (MK-05)
knife refers to this style, but its blade has a straight cutting edge, which definitely increases its functionality.
Claw knife named "Integrated Circuit"
because of the pattern visible in the handle is an illustration of precision and order. It is showing a fragment that is part of a larger whole. In an integrated circuit, one broken line indicates a failure of the entire system, so there is no room for imperfections. Similarly, in
Marcin Kampka's
projects, we see the pursuit of perfection and work discipline. What we also see in them can only be limited by our imagination ... and since you are here, you are certainly one of the people who do not lack imagination! The
presented MK Knives & Tools Claw "Integrated Circuit" Karambit Knife | Vanadis 4 Extra | PVD
 knife has a blade made of premium
Vanadis 4 Extra steel
, with a very interesting
 double grind (characteristic grooves on the blade). The blade has titanium PVD coating
. Handle made of durable
G10 composite
(connection of gray and yellow colour), and a
gray kydex holster
. The holster can be mounted vertically or horizontally or at a selected angle thanks to a specially adapted
black kydex buckle
.