Polish Knifemakers. Products of a friendly brand, shop and the Polish Knifemakers community. Products that prove that "Made in Poland" is a real value for makers and users. Made by Polish craftsmen, but also by worldwide producers according to Polish designs.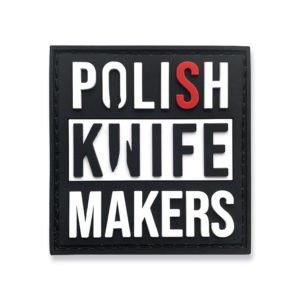 Polish Knifemakers Patch White on Black
 is a tribute to huge society of talented craftsmen and fans of theirs works. In the past, patches were designed for the needs of the military. They were attached to jackets, other parts of the uniform or backpacks to help identify friend from foe. Today patches are very popular in non military market to identify and personalisation of clotes and gear, in fact they are available for all of us. Thanks to them we can announce in simply way our hobbies, interests, participations in not formal societies and groups. Patches make us stand out, make us more visible in our personal way.