This is no joke, we swear. If you do not believe us, better read this article. We have our reasons suppose that the apocalypse is already close, very close. You might even say that you almost have it in your pocket. Basically, lucky for you, because few can carry the apocalypse in their
pants. Intrigued?
Apocalypse among knives
For a collector every knife is unique. But there is one kind of blade that is more exceptional than any other. Have you ever heard of knives with an Apocalyptic finish? Perhaps not. And no wonder – there are hardly any such knives on the market. However, when they do appear, the soul is directly ripped off to buy. Why? Because "apocalyptic" knives are absolutely unique.
Knife with Apocalyptic blade
TRC Knives specializes in this type of blades, although unfortunately, it makes them available in very limited series. Therefore, if you don't manage to buy your copy, you  will never get it again. TRC Knives usually releases a limited number of knives in a given year and only then these knives are available. So be vigilant and follow our offer regularly. It's worth it, because at TRC Knives they do a really great job. Thanks to their hard work, extraordinary precision and enormous experience you can get a product that is truly remarkable on the worldwide scale.
Special knife for special occasions
Why do we like knives with Apocalyptic finish so much? We are already explaining to you. Well, each of them is unique. This is due to their unrepeatable design on the blade. There will always be different variations. During the heat treatment process, the steel takes on different colors and shapes, at the end becoming one of a kind. Add to this the fact that they are produced in limited series and you already know why we, enthusiasts and collectors, literally drool at the sight of these knives.
They are simply beautiful. Sometimes the blade looks as if it is poured with petrol shimmering in the sun. Another time, as if they were made of a piece of multicolored quartz. Some models resemble space nebulae with their purple and navy blue color. And we can guarantee you that the pictures do not reflect their beauty even in half.
The futuristic look of the Apocalyptic blade brings to mind the raw, post-apocalyptic world in which we may one day live. Especially looking at what is happening now… And then you'll need this knife all the more. Or any other knife.
Hurry while they're still there!
As we have already mentioned, the TRC Knives in the Apocalyptic finish are released in a very quantitatively limited series. It is obvious that it is not easy to buy such a piece. Therefore, you are lucky to find it in our store. This year you can get yourself a unique gift. Hurry up, because they will be gone later. This is a real treat for all collectors or simply lovers of original design. However, these extraordinary knives are not only works of art to be hung over the fireplace. They are perfectly made, practical and very functional knives for everyday use.
Which model with Apocalyptic finish to choose?
TRC Knives very aptly, though quite perversely, named this year's series of their apocalyptic knives. Here is the collection "Biohazard 2020". – Each model is marked with a special sign. We do not have doubts that this is an excellent summary of an exceptionally turbulent year. All the more worthwhile, get yourself one of these special knives. If only to show that not everything in 2020… hm, sucks.
Our proposals at the end of the year are models:
Apocalypse Apocalyptic Biohazard 2020
South Pole Apocalyptic Biohazard 2020
K1-s Apocalyptic Biohazard 2020
Apocalypse Apocalyptic Biohazard 2020
Even its name makes you already imagine yourself breaking through the successive locations of a barren, devastated world after a nuclear holocaust. Or as the hero of Cyberpunk 2077 fighting for survival in a dystopian, futuristic city. No matter what pictures your imagination suggests, come down to earth for a moment and see what else you will love about the Apocalypse model in its limited version.
This solid, unique knife was not only made from one carefully selected piece of steel, but in addition, the steel used for its production is the highest quality premium material – Elmex. This guarantees that the knife will stay sharp for a long time, and also provides an extraordinary strength and very good anti-corrosion properties.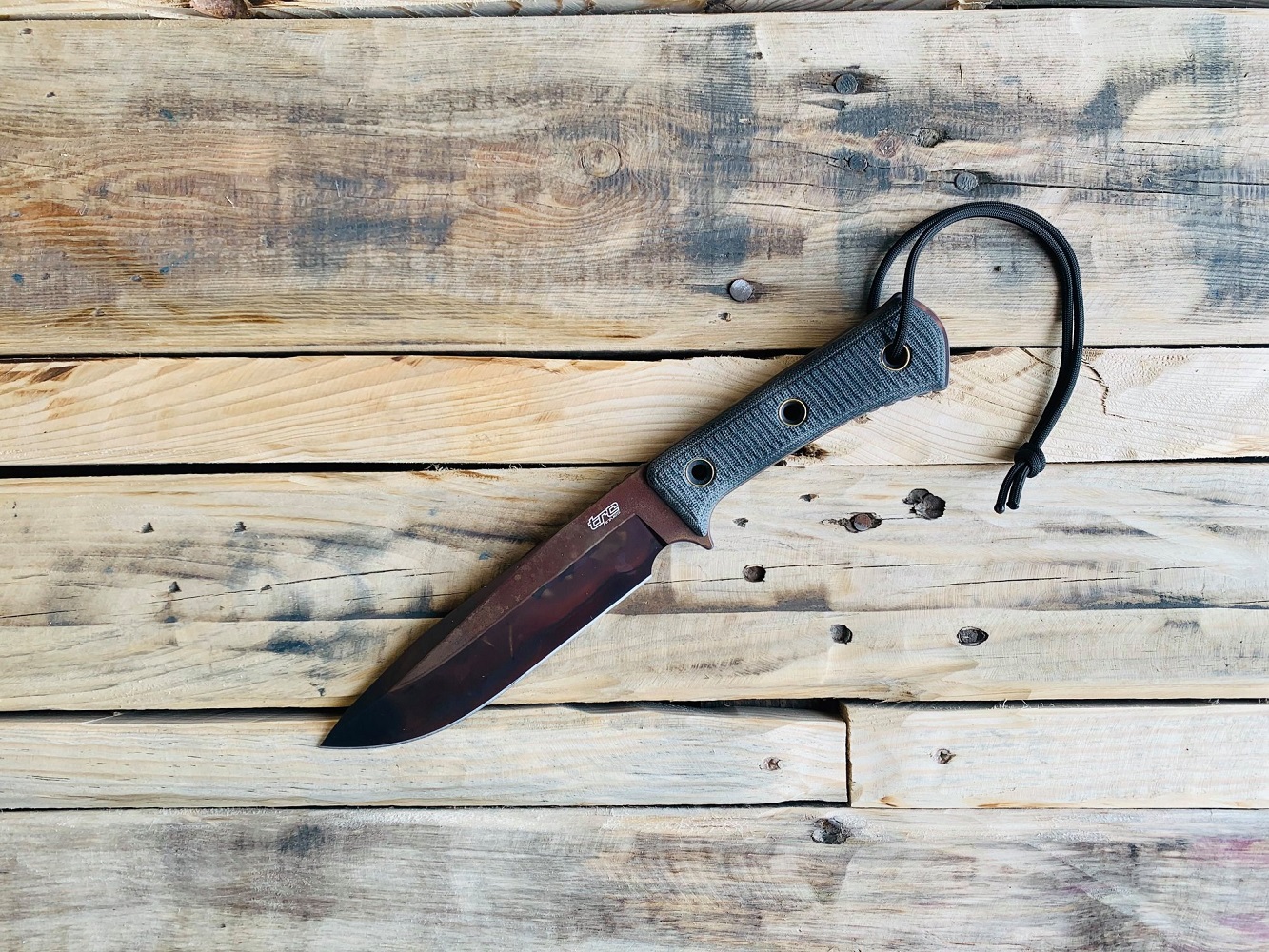 Once we are near the blade, we will immediately tell you that it was made in drop point style and It is perfect for the most demanding, survival adventures. It is a powerful tool designed directly for the toughest tasks. In addition, the knife is finished with a flat cut. The notch on the head will help when you have to press your thumb harder and the profiled dace will help to protect your fingers from being injured. Pay attention to the great handle. Although unlike the blade, it does not shimmer in color, it is made out of black, two-day-old micart. Not only does it fit perfectly with the head, but also its ergonomic shape makes it a pure pleasure to use.
This is probably enough to recognize that the Apocalypse Apocalyptic Biohazard 2020 knife is a real gem. So hurry up, because you can only buy it this year. And if you miss it, well, hunt for next opportunities or see the basic version of Apocalypse. It doesn't do that much visual impression, but it is just as good for survival in the world of postapo.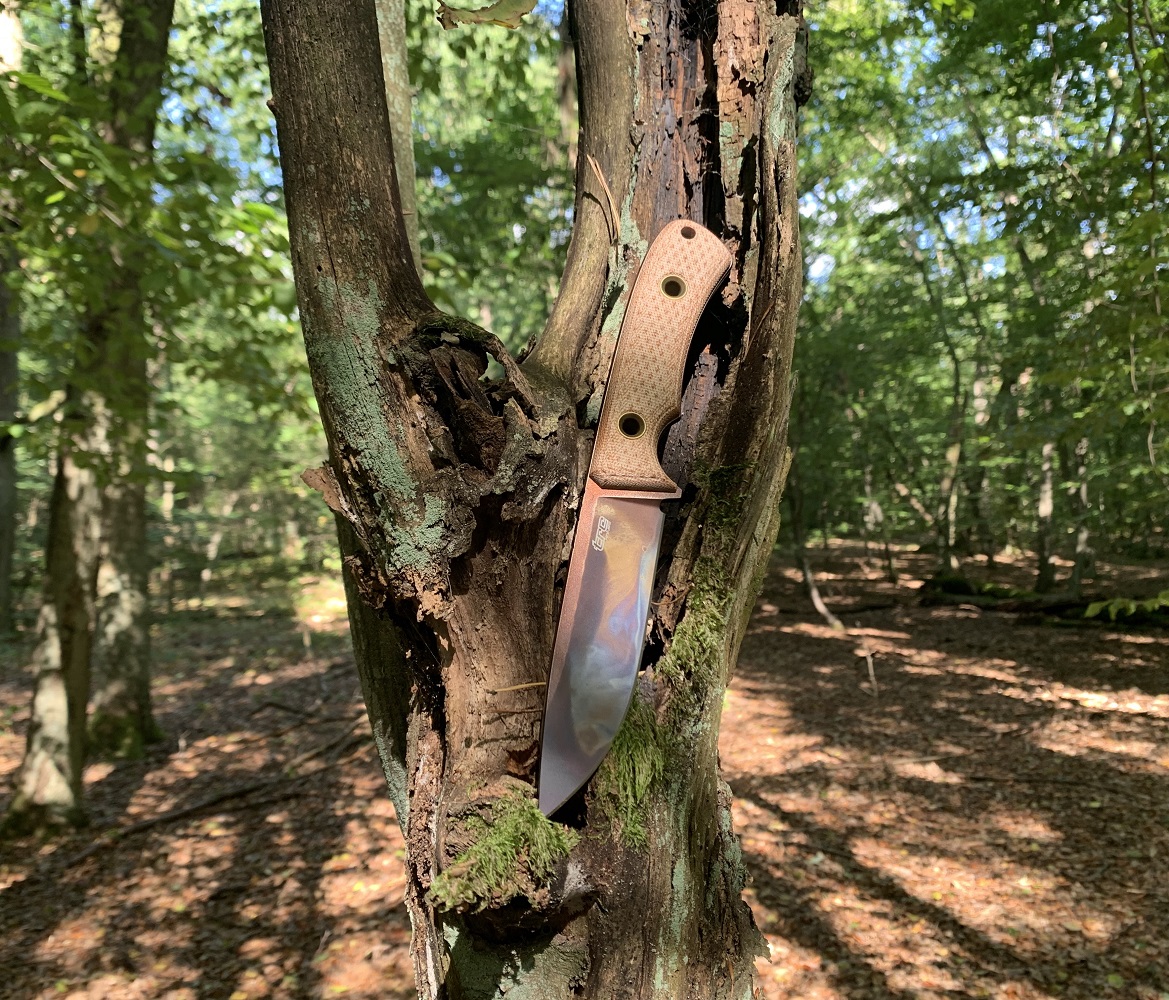 TRC Knives South Pole Apocalyptic Biohazard 2020
Another diamond in the apocalyptic mine. A limited edition of the classic South Pole, which will come in handy when you set out on your path of a perfectly equipped but still stylish hero from the world of the future. South Pole Apocalyptic Biohazard 2020 is distinguished by its finish, different in each copy. The matching natural micart handle completes this unusual design and makes it really hard to take your eyes off. But what about its functionality? You do not have to worry. The performance of the apocalyptic South Pole is on the highest level, as any knife from TRC Knives. Elmax premium steel is a guarantee of durability and strength. A drop point blade with a 4mm thick back is suitable for even the most demanding outdoor activities.
In the set with a knife (as with each of this series) you get a perfectly made holster made of Kydex polymer, which is resistant to mechanical damage, changing weather conditions and even to some chemicals. It is comfortable, safe to use and elegant.
You may not be able to buy a South Pole knife with the Apocalyptic finish. You can then reach for his twin brother with no apocalyptic drive and see how perfectly this classic model can cope in the most difficult conditions. In the meantime, wait for the next limited edition from TRC Knives.
TRC Knives K1-s Apocalyptic Biohazard 2020
The last of our proposals is a small, lightweight and ideal to wear every day model K1-s Apocalyptic Biohazard 2020. It has a very wide range of applications: from exhausting survival or bushcraft expeditions, through mountain tours, camping and family barbecues, up to absolutely daily activities. K1-s will not let you down in the wilderness or behind a desk.
The blade is made of Elmax premium quality steel. Similarly to the above mentioned models, this time we are dealing with a drop point style head, distinguished by a flat cut and comfortable notching on the back. K1-s Apocalyptic Biohazard 2020 also has a dace on the handle, which is made of black micarta – resistant to moisture, temperature changes and most mechanical damages.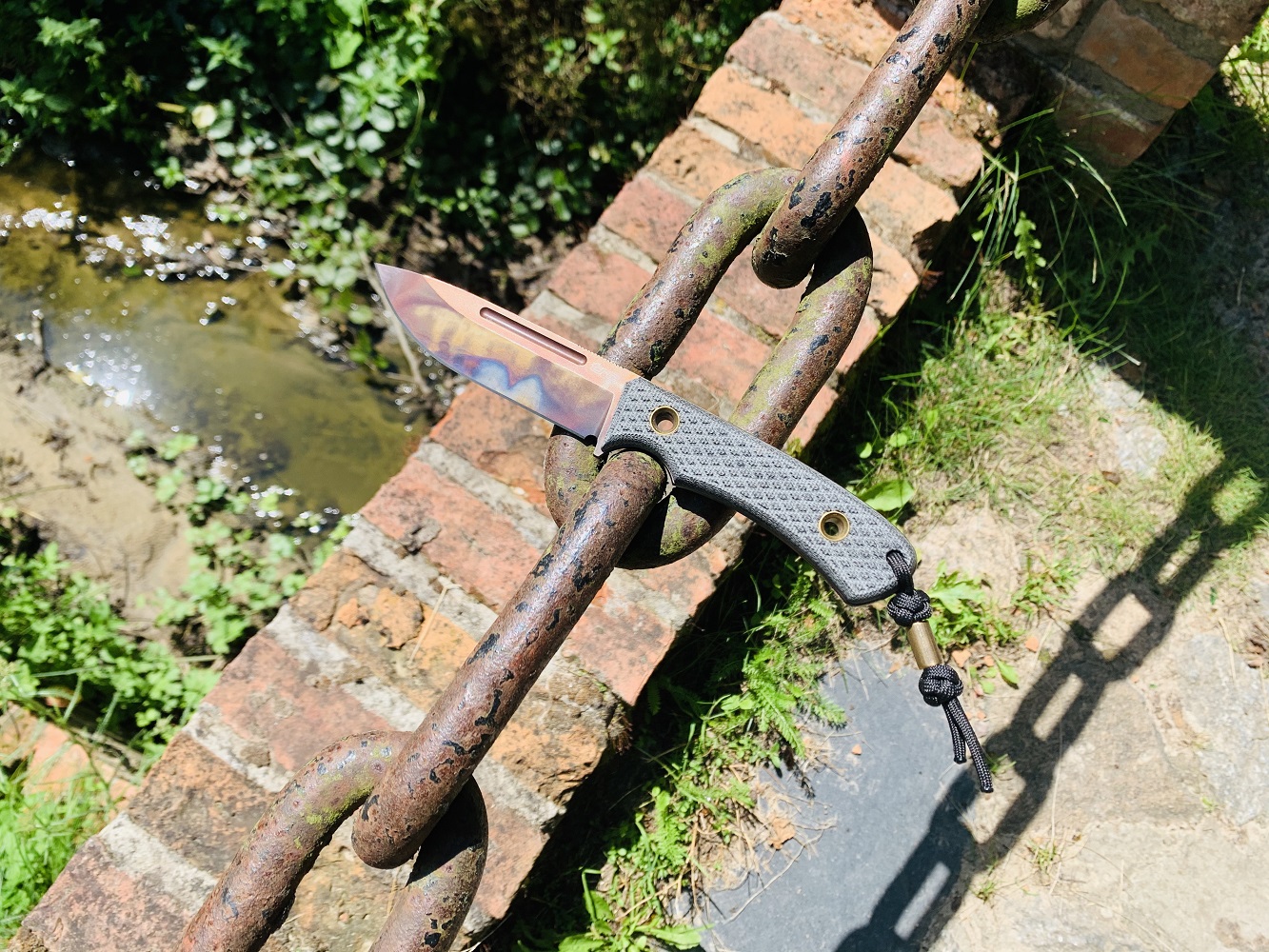 K1-Apocalyptic Biohazard 2020 is distinguished, apart from its small size, by a hole at the end of the handle, which allows you to protect yourself from dropping the knife while working. Don't worry, you don't have to look for the string in your garage, because this model originally comes with a short piece of paracord with a brass pin in the middle.
K1 is one of the favorite models of TRC Knives knifemaker, Andrius Tricius, about which you can read HERE. K1 has also found its way into the hearts of knife lovers, who demand that it should still be available in the sales. Therefore, from time to time, new versions of the K1-s Apocalyptic are released, just like the current K1-s Apocalyptic Biohazard 2020. We do not doubt, however, that it will quickly disappear from the market, because it is a hot item for all collectors.
End this year with the Biohazard 2020 series
The year 2020 has not been kind to us. However, you can break the bad luck and make yourself happy, buying a limited collector's knife with an Apocalyptic finish. You are guaranteed that your copy will be the only one in the world, because the patterns and design on the blade are never the same. Except for a unique element of your collection, you will also gain a high quality, durable and functional knife for everyday use. You can choose whether you prefer the smaller K1-s or the sturdy Apocalypse cattle. Or maybe something in the middle – the apocalyptic South Pole?
Whichever you choose, we are sure you will be satisfied. Just remember that the knives from this series are only available this year! They will be gone later, so hurry up…