Torbé Custom Knives About Torbé Custom Knives
Torbé Custom Knives – Maciej Torbé is a Polish knifemaker professionally involved in the production of knives since 2012. The adventure with knives is a direct consequence of childhood interests. Maciej Torbé, who occupied the workshop in his family home, transformed his passion for DIY into a way of life from an early age. As he says, he has always been happy to do things on his own and the very fact that after completing the work, the effect of his efforts became a tangible, real "being". Working as a knifemeker allowed him to realize even more the thus shaped passion for creation.
Torbé Custom Knives – hallmarks
Torbé Custom Knives – Maciej Torbé apart from knives, it also designs and makes hardware gadgets. The production process itself is extremely important, but it all starts with design, during which the creator focuses on the usable and visual side of the products. His works must not lack accents characteristic of his style. In knives, we notice combinations of details such as: jimpings, often modified in reference to the traditional form, characteristic, strongly inclined grinds, wedges, triangular holes for lanyards, dark or black blade finishes.
Torbé Custom Knives – materials
The materials used for the production of knives are steels such as: Elmax, Sleipner, materials for the handle are: G10 composite or Micarta. Favorite types of blade finishes are black coatings such as DLC – Diamond Like Carbon. Other methods include darkening blades: acid wash, acid stonewash or hot oxidazing. The sheaths are made of Kydex material. Everyday gadgets are often made of titanium or brass.
Torbé Custom Knives – offer
In Torbé Custom Knives offer we can find medium-sized knives for outdoor use, but also large, heavier knives for survival use. The offer includes beads for knives in individual designs (custom), EDC gadgets (e.g. a whistle), etc.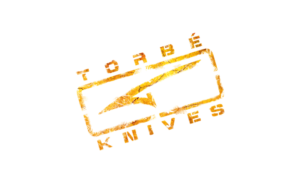 Torbé Custom Knives offer you will find HERE!
Torbé Knives Lontra Blue Shell is a knife intended for outdoor use.
Lontra
, inspired by the
Jughead Stoat knife
, goes back to the land of aquatic animals. In construction,
Lontra
is an agile and clever tool like an otter, coping well with the challenges encountered.
Lontra
knife has a high blade that is effective in chopping and a tapered point that is effective in stabbing.
Fusion-style blade
with efficient
double-sided fuller
and
bevel on the back (swedge)
enhances penetrating properties.
Plain cutting edge
, divided into two parts, is suitable for ordinary cuts and cuts that require pressure from the dorsal side.
Lontra
with its non-typical shape is a very useful knife dedicated to various types of work.
Torbé Knives Lontra Blue Shell
has an efficient blade made of
Sleipner steel
, known for its overload resistance, covered with a
black DLC coating
(with a
hardness close to 90 HRC
). The
grips
are made of a
blue G10 with shell style texturing
. The set includes a
black Kydex sheath
. The knife comes with a
unique vintage brass bead
(
custom bead
).