OS3

About OS3
OS3 is a response to the growing demand of knife users for products for their care. The main treatments to which the blades are most often subjected include: protection against moisture (cleaning and drying), always important, but definitely a priority in the case of not stainless steels, and of course sharpening. Sharpening knives is a key activity that a blade should undergo in order to fulfill its basic task – cutting. Hence the concept of the OS3 brand and its products ensuring that our knives are always 100% ready to perform their tasks.
OS3 Sharpeners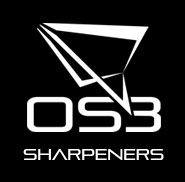 OS3 is a brand with knife sharpeners to fixed blades, including kitchen knives, outdoor knives, hunting knives, survival knives, folding knives, pocket knives, axes etc. The offer includes everyday and multi-functional sharpeners, sharpeners for beginners and for those for whom restoring the cutting edge with a simpler sharpener, equipped only with a stone, will not be big challange.
OS3 sharpeners offers applications which will restore a very damaged cutting edge and applications which will sharpen a slightly dull cutting edge. The OS3 offer will therefore include a tungsten carbide sharpener, a diamond sharpener, a ceramic sharpener (ceramic tiles), and a wetstone.
The OS3 offer includes sharpeners for straight and curved cutting edges, smooth blades, serrated blades and even fishing hooks.
OS3 for you
Home, kitchen, workshop, car, trip, field trip, workplace are places and situations where you will find use for the sharpener. The advantage of the OS3 sharpeners is their compactness, handiness and size that allows for immediate relocation or taking with you in the event of an emergency. In addition, the brand presents sharpeners with different functionalities: 2, 3, 5 functions depending on the needs.
OS3 offer you will find HERE!
OS3 Multifunctional 5 in 1 Knife Sharpener Black
for knives, for everyday use at home, in the workshop, in the field, etc. Perfect for the kitchen as well as for an outdoor trip, camping, etc. where there is a need to ensure sufficient sharpness of our working knives.
The sharpener is equipped with: 2 sharpening slots (tungsten and ceramic), an oblong ceramic stone with a groove, a tapered diamond rod and a bottle opener
. Each of the elements has its purpose. The
tungsten carbide V-Slot
will rebuild a damaged blade and the
ceramic V-Slot
will ensure quick sharpening and polishing of the cutting edge. The
ceramic stone
will sharpen any type of knife and the
two-sided groove
designed in it will restore the sharpness of fishing hooks. The
tapered diamond rod
will carry out the sharpening process of serrated, curved, smooth, hook blades, etc. The
bottle opener
, so often used by practically all of us, is just a nice addition to a functional whole.