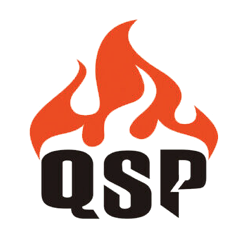 QSP KNIFE – BETTER KNIFE, BETTER LIFE
QSP
 Knife to rozwijająca się marka, posiadająca w ofercie noże składane i inne użytkowe, w których uwagę przykuwa ciekawy design, bardzo dobra jakość wykonania oraz użyte materiały.
QSP offers 2 product lines: budget and  premium.
Production takes place according to strictly defined procedures, so that the final product meets the expectations of the most demanding users and serves them for years. To this end, QSP uses modern production methods: water jet cutting, vacuum heat treatment, CNC cutting and grinding, etc. The final product is subjected to meticulous quality inspection before it goes on sale.
Each QSP knife carries not only a "dose" of technology and materials, but also presents an extraordinary design and message that, when advertised in the name, defines its purpose and useful properties.
We are convinced that models such as "Workaholic", "Worker" or "Penguin" will become part of your edc  …
Nóż QSP Knife Hawk zainspirowany został sylwetką orła. Nóż ma klasyczny, elegancki wygląd, a charakterystyczne zgrubienie na górnej linii głowni kojarzyć się może ze zgrubieniem na linii otworów nosowych w dziobie tego ptaka. Hawk to projekt o średnich rozmiarach, ale niezwykle ciekawym wykonaniu i dużych możliwościach. Materiały, z których został zrobiony zasługują na szczególną uwagę, ponieważ przekładają się bezpośrednio na jego właściwości tnące i wytrzymałość. Ostrze ze stali szwedzkiej Sandvik 14C28N oraz okładziny rękojeści z lnianej micarty w kolorze niebieskim to cechy, które osobom poszukującym informacji "co, z czego i dlaczego?" dostarczą świetnych argumentów "za" podczas podejmowania decyzji zakupowej. Pozostanie już tylko odpowiedź na pytanie – nie "czy kupić", ale "kiedy kupić"? Hawk to projekt o bardzo ładnym i subtelnym wyglądzie, który skutecznie zadomowi się w kieszeni jeans'ów, organizerze EDC, niezbędniku leśnego wędrowcy, ale również świetnie dopasuje się do codziennej marynarki.