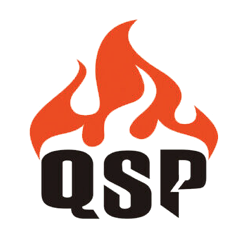 QSP KNIFE – BETTER KNIFE, BETTER LIFE
QSP
 Knife to rozwijająca się marka, posiadająca w ofercie noże składane i inne użytkowe, w których uwagę przykuwa ciekawy design, bardzo dobra jakość wykonania oraz użyte materiały.
QSP offers 2 product lines: budget and  premium.
Production takes place according to strictly defined procedures, so that the final product meets the expectations of the most demanding users and serves them for years. To this end, QSP uses modern production methods: water jet cutting, vacuum heat treatment, CNC cutting and grinding, etc. The final product is subjected to meticulous quality inspection before it goes on sale.
Each QSP knife carries not only a "dose" of technology and materials, but also presents an extraordinary design and message that, when advertised in the name, defines its purpose and useful properties.
We are convinced that models such as "Workaholic", "Worker" or "Penguin" will become part of your edc  …