 ANV Knives – ACTA NON VERBA – ACTION NOT WORDS
ANV Knives is a brand of knives designed and implemented in the Czech Republic. It is distinguished by well thought-out, interesting projects, made of European materials and high production standards. The meticulous, hand-finished finish of each knife gives the product its final shape.
ANV Knives offers fixed blade knives for outdoor, survival, tactical use as well as folding blade knives for everyday use (EDC – Every Day Carry). A characteristic feature of the brand is the ability to configure a given knife according to individual preferences. End user can decide whether he prefers to have a blade with a full cutting edge or a partially serrated blade, whether he chooses a more stringent steel finish or prefers a black DLC coating. Depending on the model, it can also choose the handle color: black, olive, orange, brown and even white. In the case of knives with a fixed blade, he also chooses the method of carrying in a leather sheath or kydex holster.
[Selected from the above options you can find in our offer]
Noteworthy in the case of the brand deserves a thoughtful complete concept of each of the products from the knife itself, through the additional accessories, ending with the set in which each of the knives is supplied. The brand class, after the meticulous finish of each product, is evidenced by, for example, completing each folding knife with a useful grease attached to the packaging, or very meticulously braided sections of paracord in the case of knives with a fixed blade. These sections are on every knife, on every kydex holster. Each time they are finished with a professional knot or weave. This of course requires commitment, time and is an expression of respect for the user who receives a fully finished product.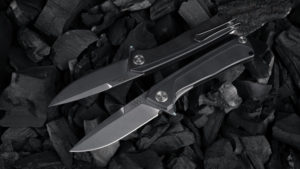 Below we present message of the brand wich is realny close to our philosophy:
ACTA NON VERBA – Actions not words.
What is courage without actions? What is wisdom without actions? What is kindness without actions? What is will for without actions?
There are so many words, sentences and phrases everywhere. Our world is overfilled with words, everybody has their own opinion and shares it with the world.
However, where are the actions?
What will we leave behind us? Will it be words? Or rather it will be actions and deeds? Will it be a built house, a born child, a planted tree? Or will it be a lot of excuses and given reasons why back then I could not, did not want, was not able, was not allowed, did not find the courage to do, preferred not to risk …?
Only actions matter! Actions, starting from the most simple ones, such as feeding a child, up to building a spacecraft rocket. Our world is made up of actions. Only actions matter! Only  actions, only deeds, which we will take or not. Impulsive and long-planned actions. Everyday and extraordinary actions, fear inspiring and joyful.
Who would our ancestors be without actions? Who is our family, our nation without actions? Actions make a man and his nature. We are the result of actions, labor, deeds and decisions taken by our ancestors. Their actions bring us together with them. Actions and deeds are important!
The choice of how to act depends on us. We decide what action we will take.  We were gifted with a free will! And it is on us to make a right choice and to choose good actions and deeds. To choose the way of Abel, not Cain.
To choose today and here, courage or cowardice, good or evil.
Our actions are dower, which we will leave to our descendants, our beloved ones. They will take it from us. They will not remember our speech and words. Our actions will live in their memory.
Actions not words – ACTA NON VERBA
ANV Knives developed the M311 SPELTER knife in co-operation with members of forward air observation units, close protection teams and special air operations. Other members of the military and security community also contributed to its design. During the knife's development, we focused on making use of their experience and requirements. Thanks to this unique co-operation, we had the chance to genuinely verify the quality of the chosen materials, design and general construction of the product. The knife was tested over a long period in extreme environments and various climates, including hot, dry and humid parts of Asia, as well as freezing areas beyond the polar circle. We manufacture its blade from one of the best steels in the world, the Swedish Elmax. This top-quality steel runs throughout the whole body of the knife to the base of the handle, which has a point for breaking glass. The blade has an extremely durable DLC (Diamond-like Carbon) surface finish that minimises reflections, prevents corrosion and gives the steel's surface great sliding properties. We produce the handle using 3D machining from Micarta, which, thanks to its shape and grooving, sits easily in the hand and gives the knife a sure grip in every situation. The knife is equipped with a safety paracord loop that stops it falling out of your hand when you are cutting. The whole structure is held together by a combination of solid threaded sleeves and four M5 screws, also with a DLC finish. Easy, reliable and safe carrying of the knife is ensured by a self-locking Kydex sheath, which has openings for fixing to a blade-tech system, enabling carrying on both molle and pals tactical webbing. A generous flow opening enables easy and fast maintenance of the sheath. Together with the Kydex sheath, we supply a hanger for easy carrying on the belt.