You may have come across the term 'Leave No Trace' before. And we're not talking about a pretty good film from 2018, known in Poland as "Leave No Trace", but about a certain style of being among nature, interacting with it without leaving any traces behind. The Leave No Trace movement has American roots, but its philosophy applies to each of us. Therefore, it is worthwhile for you to learn and apply 7 simple rules in your life
Where did the Leave No trace movement come from?
Leave no Trace originated in the United States. Immediately after the war, it became fashionable to spend time in nature, and many fans of hiking appeared. Unfortunately, tourists lacked knowledge about how to treat wildlife, so they unintentionally destroyed the natural environment while camping. This is why the 7 principles of Leave No Trace were created. Unlike the title of the film we mentioned, Leave No Trace here translates as "leave no trace". And that should be the guiding principle for anyone who wants to go camping, have a picnic in the woods or hike a mountain trail.
7 principles of Leave No Trace
Although they originated in the United States, they are equally applicable worldwide. After all, the idea of taking care of the environment is alive in every country (or at least it should be…). Especially today, when we have started to realize how much progressive technology and urbanization destroy nature, our care for the surrounding nature is even more necessary. The Leave No Trace principles set out the standards that should apply to all contact with the environment. So get to know them and apply them whenever you can.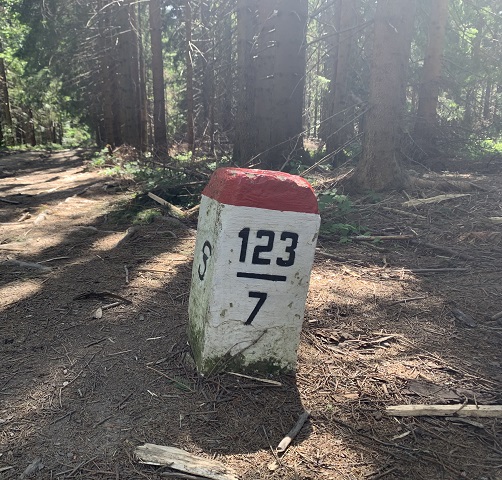 A permanent trace, but there was a need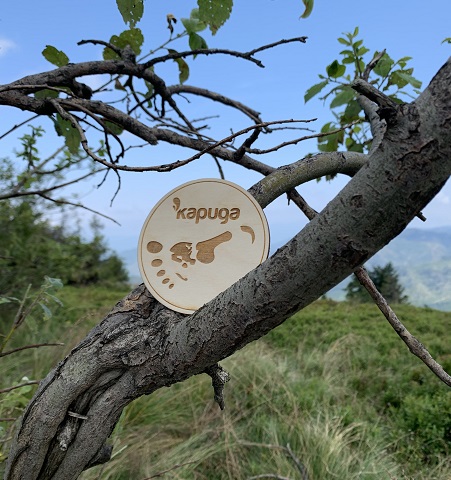 A temporary trace that disappeared immediately after taking the photo
1. plan and prepare your trip
A trip without prior preparation is an easy recipe for disaster. If you want to experience your adventure without fear of harm, plan your route carefully, choose the right equipment and check the weather. To be even better prepared, take note of the conditions you will be travelling in, where you can safely and legally camp and where you can light a fire. Find out what kind of wildlife will surround you and whether there is a risk of encountering dangerous wild animals.
Take the necessary equipment with you, that is:
–> a sturdy rucksack,
–> a good knife (e.g. a clever neck knife),
–> first aid kit,
–> map,
–> compass,
–> food and water.
If you still don't know how to prepare well for such a trip, take a look at our previous texts: 3 simple tips for a bushcraft beginner and 3 things you should take on a survival trip.
2. travel and camp on a suitable surface
You care about not destroying nature. We know this, because otherwise you wouldn't be reading this article. So we probably don't need to tell you how important it is to stick to marked paths and not to trample new ones, not to deviate from the trail and not to trample an area with delicate vegetation.
No use explaining that one person will not do much damage after all. Not one person, but dozens of people following you will. If you plan to spend the night on the route, it is best to camp in designated camping places. And if you are camping in the wild, make sure that the surface on which the tent is placed is hard and compacted. Don't damage flowers and other delicate vegetation.
3. take your rubbish with you and dispose of it properly
This is probably the most obvious rule. But if everyone knows you're not allowed to litter in nature (or anywhere else), why are the trails full of empty bottles, sandwich wrappers and meal leftovers? Apparently, we have to repeat until the end – DON'T LITTER. If you have the strength and space to carry a full bottle, all the more reason to carry an empty one. Remember that organic waste must also be brought along – even a banana peel or an apple stub. If you leave them behind, wild animals will take an interest in them, which disrupts their natural functioning and can simply be harmful.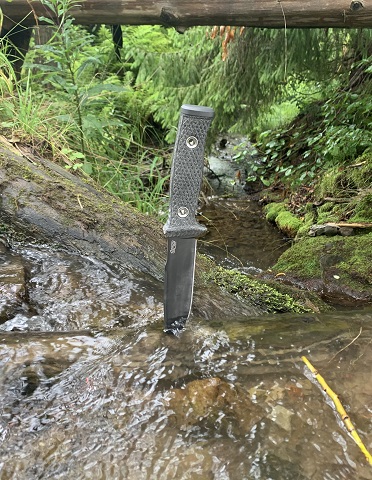 TRC Knives Mille Cuori in the wilderness of Beskidy… No worries! The knife was taken away and it didn't pollute the environment
4. leave the place as you found it
Do not damage the environment, do not break branches, do not pick flowers. Don't destroy the existing tourist infrastructure – this also applies to romantic signatures carved into a wooden shelter or, even worse, a tree trunk. When you set out on a hike, you want to encounter intact nature, right? So leave it behind exactly as it was before you came.
5. light fires responsibly
Preferably not at all. If you can, use a tourist gas cooker – in Poland there are already In Poland there are already several dozen areas where you can use it freely. If you do not have such a possibility, try to do without fire. And if you absolutely have to light a campfire, stick to a few rules:
– Make the fire in a designated area.
– Only gather dead branches which are lying down for fuel.
– Always keep the fire under control.
– Never leave the fire unattended!
– Always burn your fire to the end or put it out thoroughly.
6. respect the wildlife around you
You are the guest in the forest. Wild animals have their own paths, feeding areas and habits. Do not disturb them. If you see a wild animal, move away. Absolutely do not feed it! Always keep quiet in nature, do not shout, do not scold and do not interfere with what you find. The same goes for vegetation – take a souvenir with you in the form of a photo, not a bouquet of flowers.
7. remember that you are not alone on the trail
When you go on a long hike, you probably want to feel completely cut off from the world – in the woods, in the mountains, on a wild beach. But there are more hikers than you, and everyone wants to fully enjoy nature. So be kind to others, say hello on the trail, and help if you need to. Try not to be a nuisance to people you meet on the trail. Just behave as you would like others to behave.
Why is the application of Leave No Trace particularly important now?
There are fewer and fewer forests and green spaces, and more and more cities, buildings and roads. The more we look after the nature around us, the longer it will remain a delight. If we want future generations to be able to relax in nature, too, then we need to ensure that nature is left in the best possible condition.
All the more so as Poland has recently launched a pilot program concerning areas where it is possible to camp in the wild. You can read more about it in our article (I don't see it on the website, but if there is, it's worth linking to). The effects of the scheme were so beneficial that the decision was made to make it permanent. It will be possible to camp in the wilderness again from 1 May this year. Therefore, let's show that the National Forests are right to trust us and let's present ourselves from the best side, applying the 7 principles of Leave No Trace.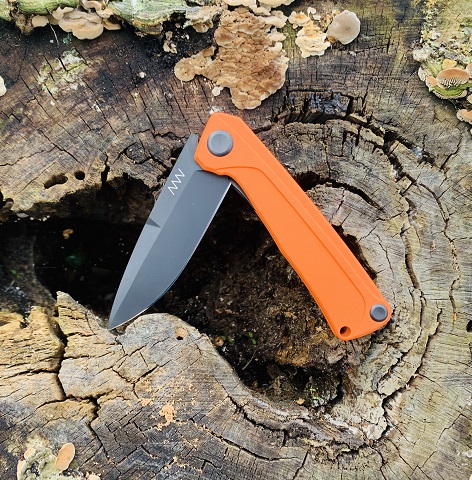 The Z100 from ANV Knives in the orange version is not so easy to lose, which makes it easier to approach "what you took to the forest, take back with you"
So remember – leave no trace
Unless as a comment to this article – Applying Leave No Trace principles is important not only during long survival or bushcraft expeditions. Also family picnics, trips with friends or holiday climbing Giewont should take place with respect for nature and remembering about your own and others' safety.
Don't wear flip-flops on a trip to the mountains, don't cut down branches to make yourself a cool shack and don't feed that cute roe deer that looks like Bambi. Don't litter no matter where you are – in the city centre or in the middle of the wilderness. Introduce the 7 principles of Leave No Trace permanently into your life and thus take care of the environment. We have been doing it for a long time and we can see that it pays off!
Nature is able to repay … The photo shows a slow worm who "went" his way a moment later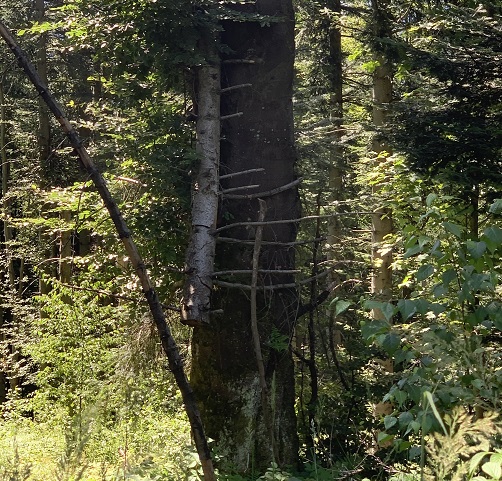 "Alien tree", the beauty of pristine nature