Sliwkosky  Knives

Sliwkosky Knives: Jakub Sliwka is a Polish knifemaker who has been dealing with knifemaking for over 10 years. Since 2018, he has been creating knives professionally.
The adventure with knifemaking in his case began quite early, and it came first from the technical talent and need for DIY noticed in his youth, and secondly from the interest in the knife industry at some point in his life. The combination of these two elements laid the foundations for the project later called Sliwkosky Knives, which is an obvious link to the name of the knife maker (sliwka = plum). Before this happened, however, several years had passed, devoted to acquiring knowledge, polishing skills in the field of knifemaking and annual participation in industry events constituting a kind of forum for the exchange of experiences. Along the way, Jakub Sliwka also graduated from engineering studies, although in a different field, less related to the knife industry, but providing a solid dose of knowledge about the knowledge of various technical processes, planning, etc.
Coming back to Sliwkosky Knives, it should be added that in the case of Jakub Sliwka, this name and the shape of the plum fruit, visible in the logo design developed over time, became a harbinger of noticeable individualism, a sign imprinted in each of his projects, both more original and inspired by designs characteristic of different countries and cultures.
These traces can be clearly seen, for example, in one of his more famous projects with the familiar sounding name of Mora Custom, which is an individual creation that draws inspiration from popular Swedish knives. They are also noticeable in the projects Urban Bowie, Modern Puukko, Kukri or Kwaiken. As you can see, very diverse inspirations rubbing against the Scandinavian countries, the Far East or America. Seemingly distant, however, in the performances of Sliwkosky Knives, we will definitely find common details common to Jakub Sliwka.
Sliwkosky Knives today focuses on making knives mainly from premium materials. The blades are made of such kind of steel like: Elmax, M390, Vanadis 4 Extra, Sleipner, D2, AEB-L. All of them are constantly hardened by themselves, carefully monitoring the course of the entire process. The handles are usually made of Micarta, G10 composite, carbon fiber or stabilized wood. The knifemaker prefers more durable materials so that the user can enjoy his knife for a long time and without any problems. Holsters are mainly made of Kydex, sometimes of natural leather, which the knifemaker recommends if it matches the style of a given knife.
The offer of Sliwkosky Knives includes knives for everyday use, outdoor use, bushcraft, survival, hunting and also for kitchen use.
As the knifemaker himself reveals: "My knives are a promise and while working on the next project I always try to think what and how to make with the knife to make client happy with it". Let his words herald the reliability and high standards that you can find today in Kapuga.pl's offer in the Sliwkosy Knives section.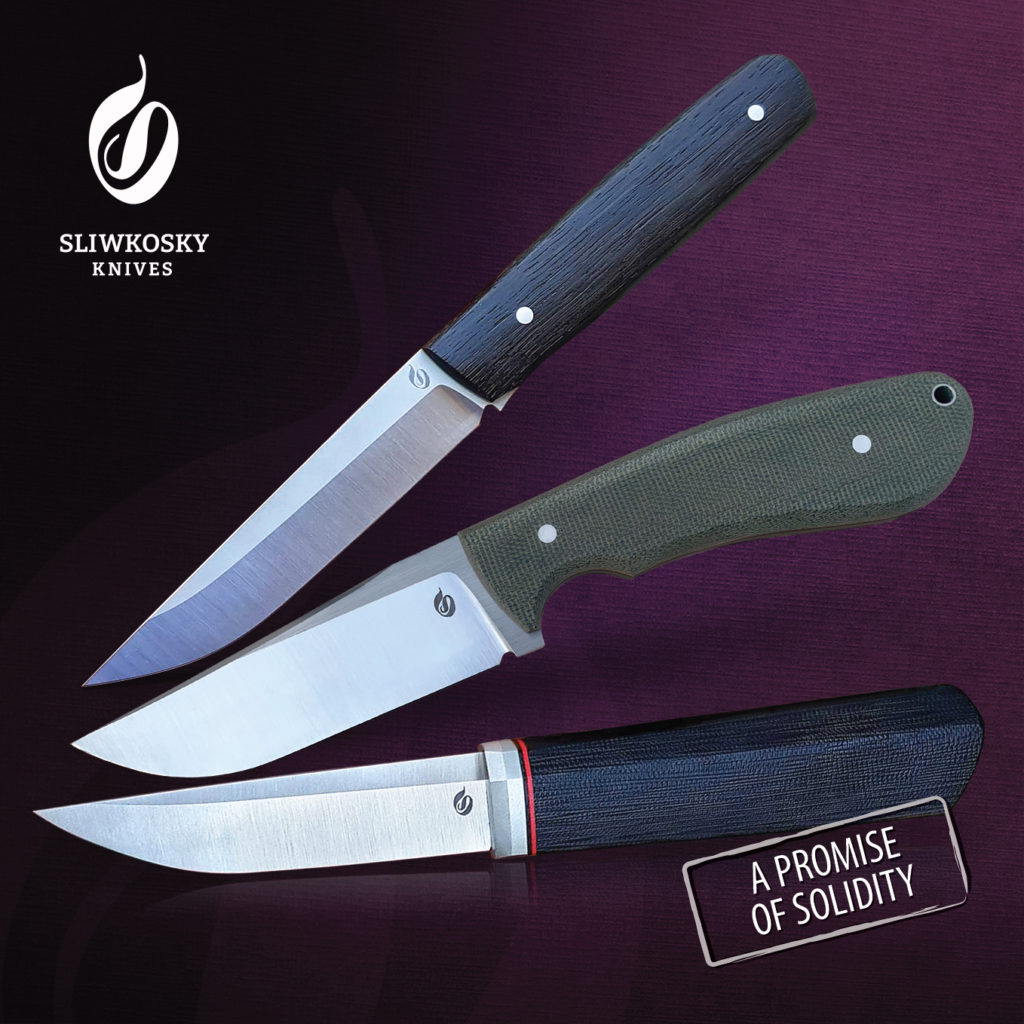 The
Sliwkosky Knives Mora Custom knife
was inspired by
Finnish puukko knives
.
Knifemaker Jakub Sliwka
used a design from Scandinavia and made a very interesting knife. The result is a blade with a high Scandinavian grind and a hidden-tang handle with a very pleasant grip and a very grippy handle. The whole length is quite large
(235 mm long)
, and the relatively thick, oval
120 mm handle
fits well in the hand, even when working with a glove. In addition, the hidden-tang design makes it comfortable to work without gloves, even in quite cold weather due to the lack of direct contact of the hand with metal. The presented
Mora Custom
knife is intended for users who practice forest tourism, bushcraft passion, camp in nature, etc. It will not be afraid of preparing a meal, preparing wooden shavings or lighting a fire with a flint with
a ridge that is more sharply finished for this purpose.
The presented version of the Mora Custom features a satin Elmax steel blade, Green Canvas Micarta handle with G10 liner and green Kydex holster with black additions.